[Chart Of Interest]: The $700 Billion Hole
May 22, 2022
The [Chart of Interest] post is a weekly blog spotlighting a highly informative chart and the significance on asset markets through the lens of the EPB Secular & Cyclical Framework.
[Chart Of Interest]: The $700 Billion Hole
The rebound in economic activity that occurred after the COVID recession was mainly due to a one-time re-opening effect and massive debt-financed stimulus.
A significant increase in borrowed funds pushed aggregate debt to GDP in the United States briefly passed 400%. Debt levels have since dropped to roughly 370% of GDP when measuring the public and private sectors.
When debt levels rise beyond reasonable measures, the standard of living starts to erode.
The standard of living is best measured by long-term trends in real income.
The chart below shows that from 2009 to 2020, real income generated from the private sector increased at roughly 2.9% per annum.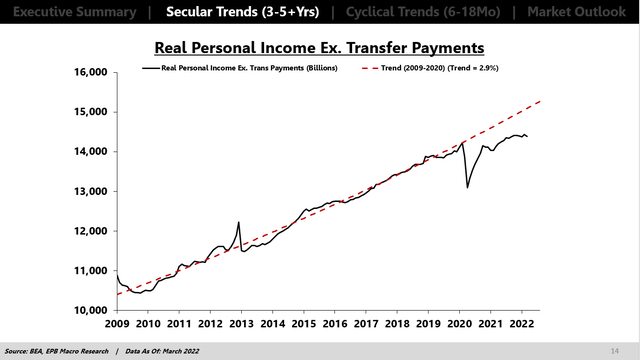 Since February 2020, the 2.9% pace has declined to 0.5%.
In 2017 and 2018, consumers were making decisions based on an estimate of their income in 2022 and 2023. This is the concept of "permanent income" in economics.
Real income is starting to decline, and the aggregate level of real income is $700 billion shy of the economy's pre-pandemic trendline.
The private sector has been massively impaired due to the COVID recession and debt-based policy solutions.
Recently Target and Walmart confirmed that this massive hole in private sector real income is taking a toll on consumers, and they are now pulling back on big-ticket goods.
Speaking on the pullback in consumption, Target's CEO stated:
As I mentioned earlier, this led us to carry too much inventory, particularly in bulky categories, including kitchen appliances, TVs, and outdoor furniture.
This change in real income is likely a permanent impairment to the private sector as the economy will struggle to ever regain the pre-pandemic trend in real private income.
Join The Free EPB Macro Research Blog
New research, content, and special offers delivered straight to your inbox.
We hate SPAM. We will never sell your information, for any reason.