[Chart Of Interest]: Single-Family Or Multi-Family?
May 28, 2022
The [Chart of Interest] post is a weekly blog spotlighting a highly informative chart and the significance on asset markets through the lens of the EPB Secular & Cyclical Framework.
[Chart Of Interest]: Single-Family Or Multi-Family?
Over the last several weeks, there has been an about-face in the real estate market coverage. Stories of insatiable demand and rapid price increases have turned to buyer hesitation, and price reductions as mortgage rates surged above 5%.
A string of surprisingly weak housing reports, including the NAHB Homebuilder Sentiment Survey, New Home Sales, Mortgage Purchase Applications, and Existing Home Sales, added fuel to the changing narrative.
A sudden slowdown resurfaced parallels to the 2008 housing downturn, but the debt dynamics are much different.
Mortgage debt in the single-family home sector is 52% of GDP, down from 77% at the peak of the crisis.
Mortgage debt is elevated relative to history but far lower than the 2008 period.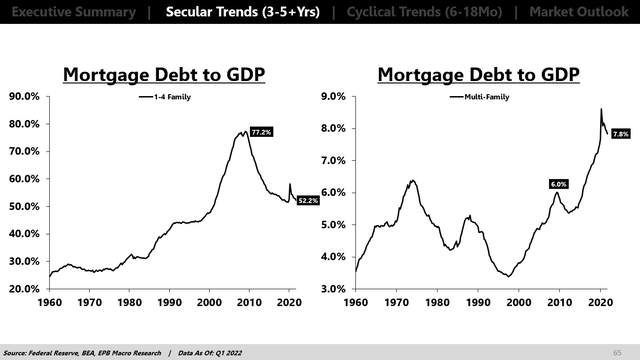 This time, the buildup in debt is more heavily concentrated in the multi-family sector, where debt to GDP is almost 8% compared to 6% during the GFC.
The single-family home sector deleveraged after the 2008 downturn, which led to a lack of new single-family home construction and the widespread "housing shortage" narrative.
The explosion in construction and pocket of excess capacity is concentrated in multi-family units.
When looking for pockets of the economy that will suffer the most in an economic downturn, sectors with record-high debt levels and material accelerations in the rate of debt growth are generally good places to start the search.
Join The Free EPB Macro Research Blog
New research, content, and special offers delivered straight to your inbox.
We hate SPAM. We will never sell your information, for any reason.