[Chart Of Interest] New Orders CRASH In June
Jul 02, 2022
The [Chart of Interest] post is a weekly blog spotlighting a highly informative chart and the significance on asset markets through the lens of the EPB Secular & Cyclical Framework.
[Chart Of Interest] New Orders CRASH In June
The ISM Manufacturing PMI is one of the most widely watched and trusted measures of manufacturing activity and overall economic health.
The ISM Manufacturing PMI is highly cyclical and captures the "growth rate cycle" quite well.
Underneath the headline ISM number are several sub-components, including new orders, inventories, employment, prices paid, and more.
A reading above 50 signals an expansion or positive growth, while a reading below 50 signals contraction or negative growth.
The ISM Manufacturing PMI is a remarkable indicator that strongly correlates to changes in asset prices, corporate earnings, and more.
On Friday, the ISM PMI was published for the June reporting period and showed a more significant than expected decline, falling from 56.1 in May to 53.0.
More importantly, however, the new orders component fell into contraction territory with a reading of 49.2 for June.
As mentioned above, the ISM Manufacturing PMI is a critical indicator so understanding the future direction is vital.
The spread between the new orders and inventory readings is a reliable leading indicator of the overall ISM Manufacturing PMI.
This makes sense because if new orders are falling faster than inventory, then companies have to cut production in the future to combat a building imbalance.
The spread between the ISM new orders and inventory sub-subcomponents crashed in June, which is a strong warning sign that future declines in the overall ISM Manufacturing Index should be expected.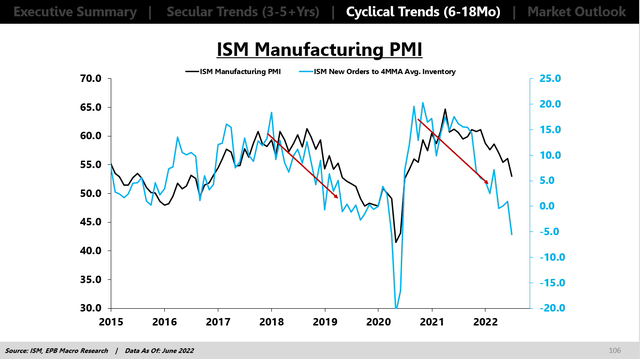 Given that the ISM Manufacturing PMI holds a very strong correlation to earnings estimates, credit spreads, and more, the probability that we see further declines should be a warning sign that more turbulence is ahead in cyclical risk-assets.
If you're interested in this analysis of cyclical trends and how the economic cycle impacts asset prices, then check out the EPB "Basic" subscription.
The EPB Basic subscription gives you access to the EPB Monthly Cyclical Trends Update which is a detailed analysis of the coming trends in economic growth with a discussion of asset class performance, thematic portfolio strategy, and positioning ideas.
As an added bonus, subscribers also get a quarterly recorded presentation that discusses secular or long-term economic trends and the impact that "economic gravity" has on asset prices.
I will be adding new features in the coming months to EPB Basic package including live webinars with Q&A.
Learn more about the EPB premium services by clicking here.
Join The Free EPB Macro Research Blog
New research, content, and special offers delivered straight to your inbox.
We hate SPAM. We will never sell your information, for any reason.