[Chart Of Interest] Italy In Crisis
Jul 23, 2022
The [Chart of Interest] post is a weekly blog spotlighting a highly informative chart and the significance on asset markets through the lens of the EPB Secular & Cyclical Framework.
[Chart Of Interest] Italy In Crisis
Europe is on the verge of another debt crisis similar to the 2012 situation centered around Greece.
This time, however, the problem is much larger as Italy has a debt load that dwarfs Greece in 2012. Also, the demographic profile of Europe as a whole has deteriorated massively since the early 2010s.
An economy simply cannot function when there is negative population growth in the 15-64-year-old bracket, also known as the "working-age population."
If a country has fewer workers, that means less income from employment and thus, less tax revenue.
Lower tax revenue and accelerating debts are a recipe for a debt crisis.
The problem is virtually unsolvable because raising taxes isn't a viable option as there is only so much you can take from a dwindling working class.
Japan has been the poster child for the worst demographics in the developed world, but Italy will surpass Japan in the next 2-3 years and hold the title for the worst demographics.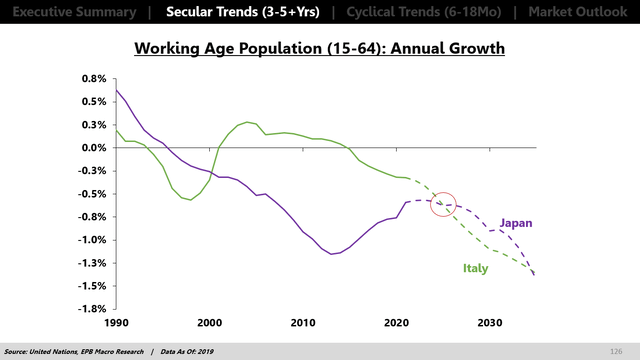 The ECB can only prevent a debt crisis in Italy for so long because the problem is set to accelerate every year for the next decade.
The rest of Europe is not far behind Italy, as the entire region has negative population growth.
The ECB and the European political powers will have a decision to make in the coming few years. One by one, countries will have a demographic-based debt crisis that simply cannot be solved by absorbing the debt onto the central bank balance sheet.
The fate of the Euro is in question with another looming debt crisis following Greece just one decade ago.
--
If you're interested in how long-term and short-term economic cycle trends impact asset prices, then check out the EPB "Basic" subscription.
The EPB Basic subscription gives you access to the EPB Monthly Cyclical Trends Update, which is a detailed analysis of the coming trends in economic growth over the next 6-12 months with a discussion of asset class performance, thematic portfolio strategy, and positioning ideas.
As an added bonus, subscribers also get a quarterly recorded presentation that discusses secular or long-term economic trends and the impact that "economic gravity" has on asset prices.
Learn more about the EPB premium services by clicking here.
Join The Free EPB Macro Research Blog
New research, content, and special offers delivered straight to your inbox.
We hate SPAM. We will never sell your information, for any reason.