[Chart Of Interest]: Growth Cycle Scorecard For Equities
May 14, 2022
The [Chart of Interest] post is a weekly blog spotlighting a highly informative chart and the significance on asset markets through the lens of the EPB Secular & Cyclical Framework.
[Chart Of Interest]: Growth Cycle Scorecard For Equities
When economic growth declines, risk assets generally suffer negative performance.
Economic growth has been in a cyclical downturn since April 2021. Still, risk assets continued to perform well for another six months after that peak fueling a narrative that "this time is different."
If we look at the scorecard or how risk assets have performed since the start of this cyclical downturn, the results are very consistent with history.
The S&P 500 is a highly defensive index by construction and has seen virtually no gain since the April economic inflection point.
More cyclical indexes like the Russell 2000 are down nearly 20%.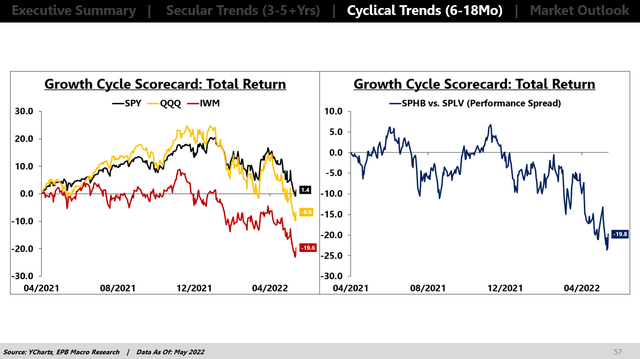 Importantly, when economic growth declines, low volatility or low beta sectors outperform high volatility or high beta sectors.
The chart on the right shows that high beta stocks have underperformed low beta stocks by 20% since the inflection in economic growth.
The current downturn in economic growth is ongoing, so it's not entirely fair to judge performance without witnessing the conclusion of the downturn. Still, if history continues to rhyme, then the volatility in risk assets is likely to continue, and the riskiest areas of the market will continue to underperform the more defensive sectors.
Join The Free EPB Macro Research Blog
New research, content, and special offers delivered straight to your inbox.
We hate SPAM. We will never sell your information, for any reason.