[Chart Of Interest]: Employment Growth
May 08, 2022
The [Chart of Interest] post is a weekly blog spotlighting a highly informative chart and the significance on asset markets through the lens of the EPB Secular & Cyclical Framework.
[Chart Of Interest]: Employment Growth
April's employment report showed a fractional decline in job growth, falling to 4.5% from 4.6% in March when measured via a smoothed six-month annualized growth rate.
The four corners of the economy graphed below work in a cyclical fashion, feeding on each other, so it is highly unlikely to see employment growth hold a deviating trend from the rest of the economy.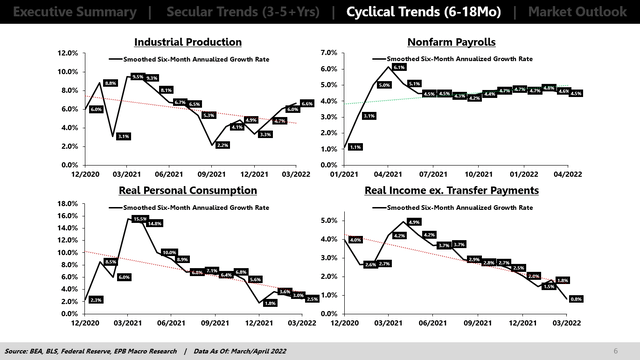 While the economy continues to broadly cycle lower, payroll growth is the only major segment that remains in a positive trend.
By definition, as aggregate real economic growth trends lower and moves closer to the 0% line, recession risk is rising.
So it's fair to say recession risk is rising, but it is premature to make a recession forecast without employment growth joining the other three factors in a sustained downtrend.
Join The Free EPB Macro Research Blog
New research, content, and special offers delivered straight to your inbox.
We hate SPAM. We will never sell your information, for any reason.